09/2016
Rapid Response Reporting on Oslo Architecture Triennale
By Inês Moreira
"After Belonging argues that place-making and the construction of a sense of identity constitute only the most typical among other possible agendas for which architecture could be mobilized. (…) This project [the Triennale] intends to critically inspect how architecture is articulated towards specific ends in the transformation of belonging, and aims to speculate on alternative trajectories for architectural production."
After Belonging catalogue, curators text, p. 15
Oslo Architecture Triennale (OAT) opened in early September bringing to Oslo an internationally mobilized architectural community of practitioners, thinkers and academics. Gathered via a curatorial open call won by the After Belonging Agency – Luís Alexandre Casanovas Blanco, Ignacio G. Galán, Carlos Mínguez Carrasco, Alejandra Navarrete Llopis and Marina Otero Verzier – so to survey and display the proposed curatorial subject: "After Belonging – the objects, spaces and territories of the ways we stay in transit". It presents two large exhibitions – "On Residence", and "In residence" -, an ambitious international opening conference and an especially edited book published by Lars Muller Publishers, along a student's academy and other parallel events.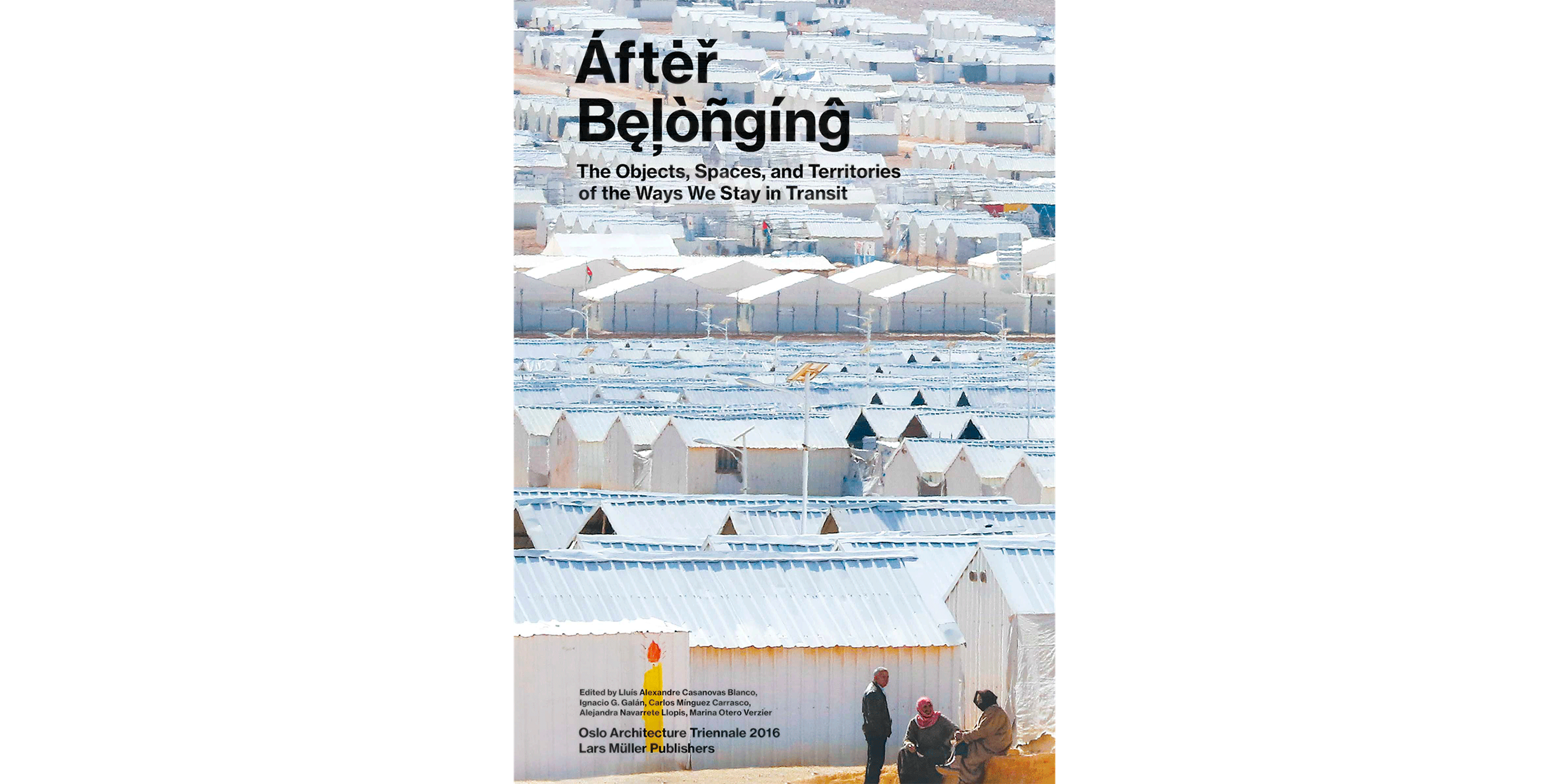 As in major international exhibitions, during the opening days dozens of guests exhibited and debated their work and research, both at the mentioned official program and in parallel events. The immediately perceived audience and media response is double: very positive curiosity from those interested in multidimensional dialogues in architecture as a hybrid human/cultural spatial production and, on the other side, harsh scepticism from those still strictly interested in a more objectual/authorial perception of architecture understood as a design solving discipline. The reactions mirror a contrasting understanding of what architecture is in our days and what it should be doing. The curators clearly state their aim "to speculate on alternative trajectories for architectural production", aligned with field research and cartographic practices developed by architects operating as researchers and activists worldwide.
Oslo/Norway
Oslo, and Norway, are one of the world´s wealthiest (and most expensive) territories, where immigration and population grew to 30% of its number. The country is developing new investments in architecture, as we can perceive from the crane´s skyline of the city, with many new developments and public buildings under construction. Oslo is an attractive destination to see, to design and, as well, to build high standard architecture, a land of opportunities for practitioners – but in fact, divulging above all, Snohetta. Very unlike the exuberance of other oil economies, Norway is – through the "Future Built" program, an agency of 3-4 cities, including Oslo – exploring new approaches to environmental and architectural sustainability from the conception/construction to its lifespan, implementing and monitoring new architectural competitions in which the industry is envisaged to reduce transports, to use non-eco-friendly materials and to shrink energy consumption throughout the lifecycle of buildings. Every year 50 new public schools are built/remodelled, there are new low-rent housing projects and, public buildings – the press could visit the building sites of the main building under construction: the New National Museum, by Klaus Schuwerk, and the new Munch Museum, by Juan Herreros, both at the bay and around the New Opera House, by Snohetta. At the same time, the country invests in ambitious cultural organizations that promote architectural culture and spatial experimentation namely, DOGA (The Norwegian Centre for Design), the Architecture section of the National Museum, Oslo Architecture Triennale, which states to be "a knowledge-driven Triennale". As the program shows, there is a multidimensional conversation with "conventional" architectural production, actually supporting, listening and interplaying with it.
Oslo Architecture Triennale
Beyond the expected strict ambitious global architecture (and interests), Oslo is, at the same time, promoting its Architectural Triennale as a platform of critique and cultural analysis of the built and the urban phenomena in the global world. The critical statements of both 2013 and 2016 OAT editions have addressed the ecological and systemic distresses brought by worlds asymmetries – the energy/oil exploitation, global warming and depredation of the globe´s raw materials are a common denominator. The agendas and results of both real estate/building industry and that of cultural critique are (necessarily) not coinciding, even though, in Oslo they establish a mature dialogue: not only real estate and large architectural companies are main sponsors of the Triennale´s cultural program, as they both have presented at the international conference their contrasting arguments.
As a policy of practice, the antithetical proposals/perspectives were sounding at the Conference: from community empowerment against the busyness of charity, by Yasmeen Lari from Pakistan, to IKEA Foundation's pre-built refugee shelters to "set" in place; or the marketing presence of Barcode district, to the "pet" scale interventions of the Japanese Atelier Bow-Wow or of Norwegian TYIN Architects; from Shweta's Library of Alexandria projected abroad, to Michel Feher's exposure of corporate value making within contemporary economy. Kaleidoscopic positions and scales gather in Oslo – global/local, managerial/activist, critical/business oriented, objectual/knowledge oriented –, with its many tensions.
On Residence Exhibition Overview. © Istvan Virag
On Residence Exhibition Overview. © Istvan Virag
On Residence Exhibition Overview. © Istvan Virag
Exhibitions/Exhibits
At the Triennale´s core are two exhibitions responding differently to questions of "Belonging": one focusing the research by different authors worldwide and the second bringing specific responses to specific locations identified by After Belonging Agency.
"On Residence" (DOGA), is a labyrinthical repository of on-going processes (spatial, material, visual) mostly exploring in field research dozens of specific locations in the global world, distributed in a schizo-narrative: borders elsewhere (on territories), furnishing after belonging (on objects and material cultures), sheltering temporariness (housing and policies), technologies for a life in transit (networks and geographies), markets and the global home (global economies of belonging). After the overwhelming first impression of the excessive scenographical apparatus, the fragmentary exhibits strive for attention – from furniture installations to videos, from sound testimonies to framed photographs.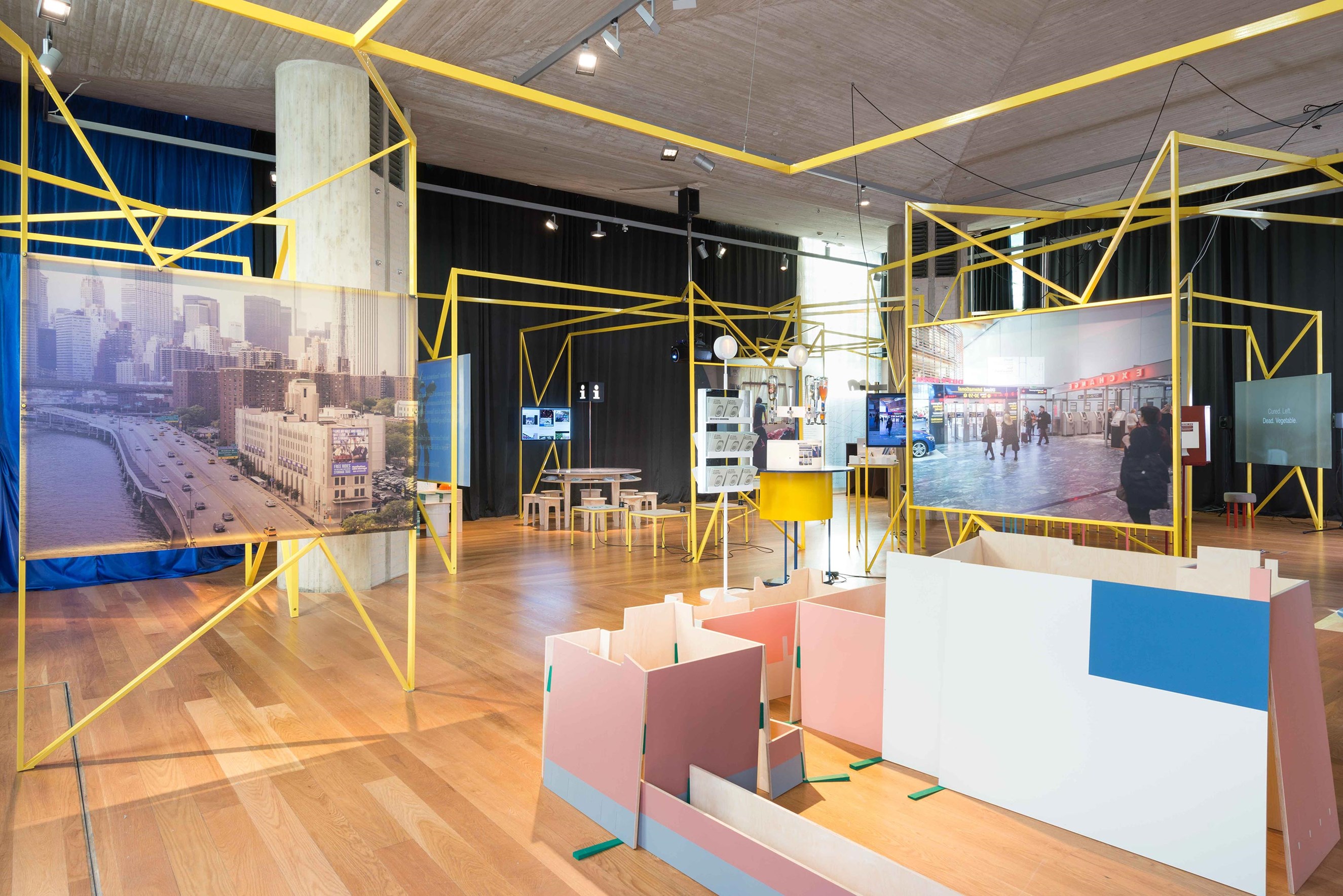 In Residence Exhibition Overview. © Istvan Virag
The second exhibition, "In Residence", is a response to specific places and problematics in Oslo and in the world, and proceeds by both "reporting" particular spatial dimensions of belonging staged at the reported places (Risaralda/Colombia, New York, Lagos, Oslo, Kirkenes, Dubai, Prato/Italy, Stockholm), and, in some of the locations, the exhibition presents proposals of micro interventions, by different teams. The meandering scenography offers a strong spatial experience, nevertheless the curatorial contents keep a certain fragmentation. The legibility of "In Residence" is greater, maybe the fewer projects and the clear commission makes it easier for the audience.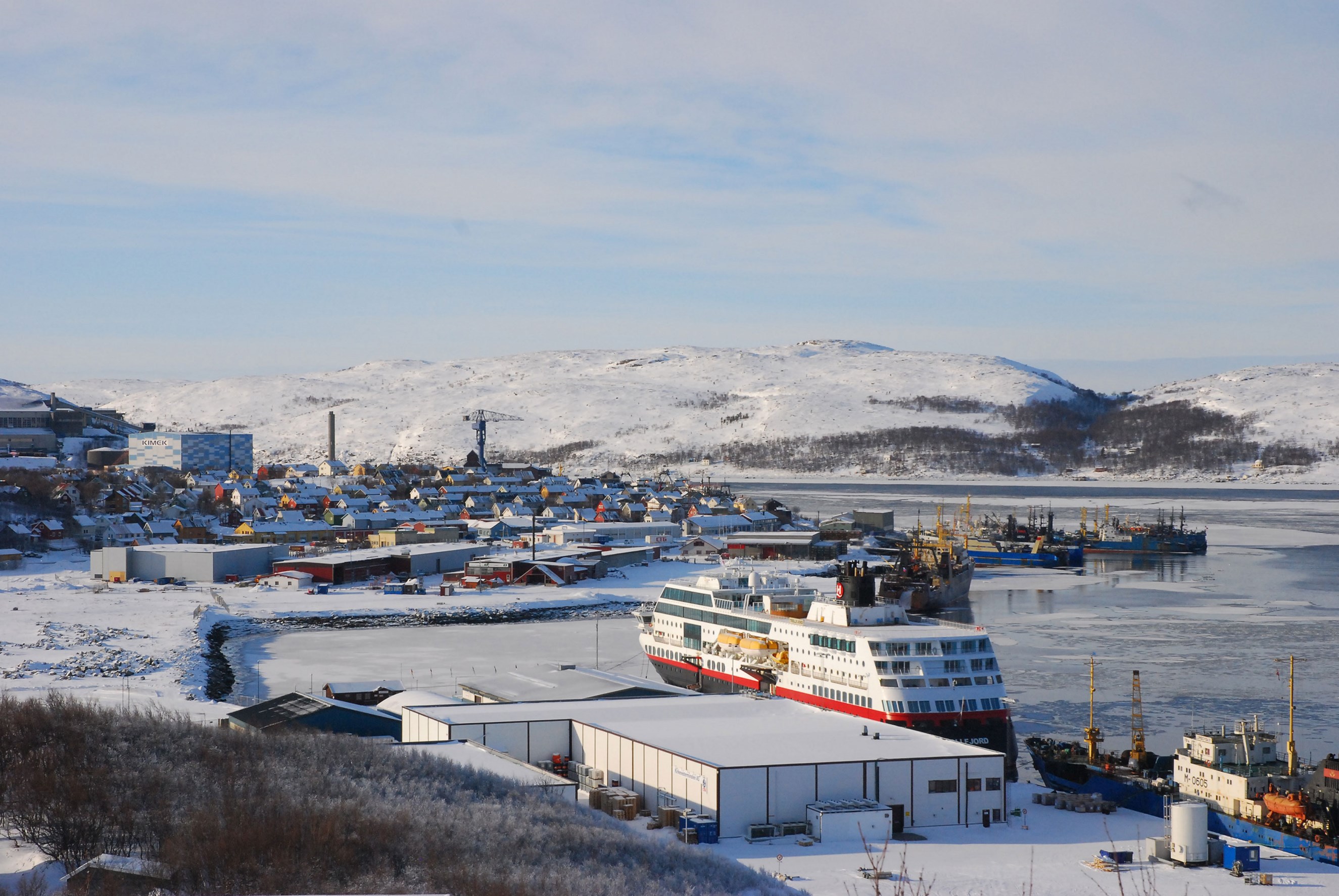 Kirkenes, at the border of Norway and Russia, is one of the sites selected for the Open Call for Intervention Strategies.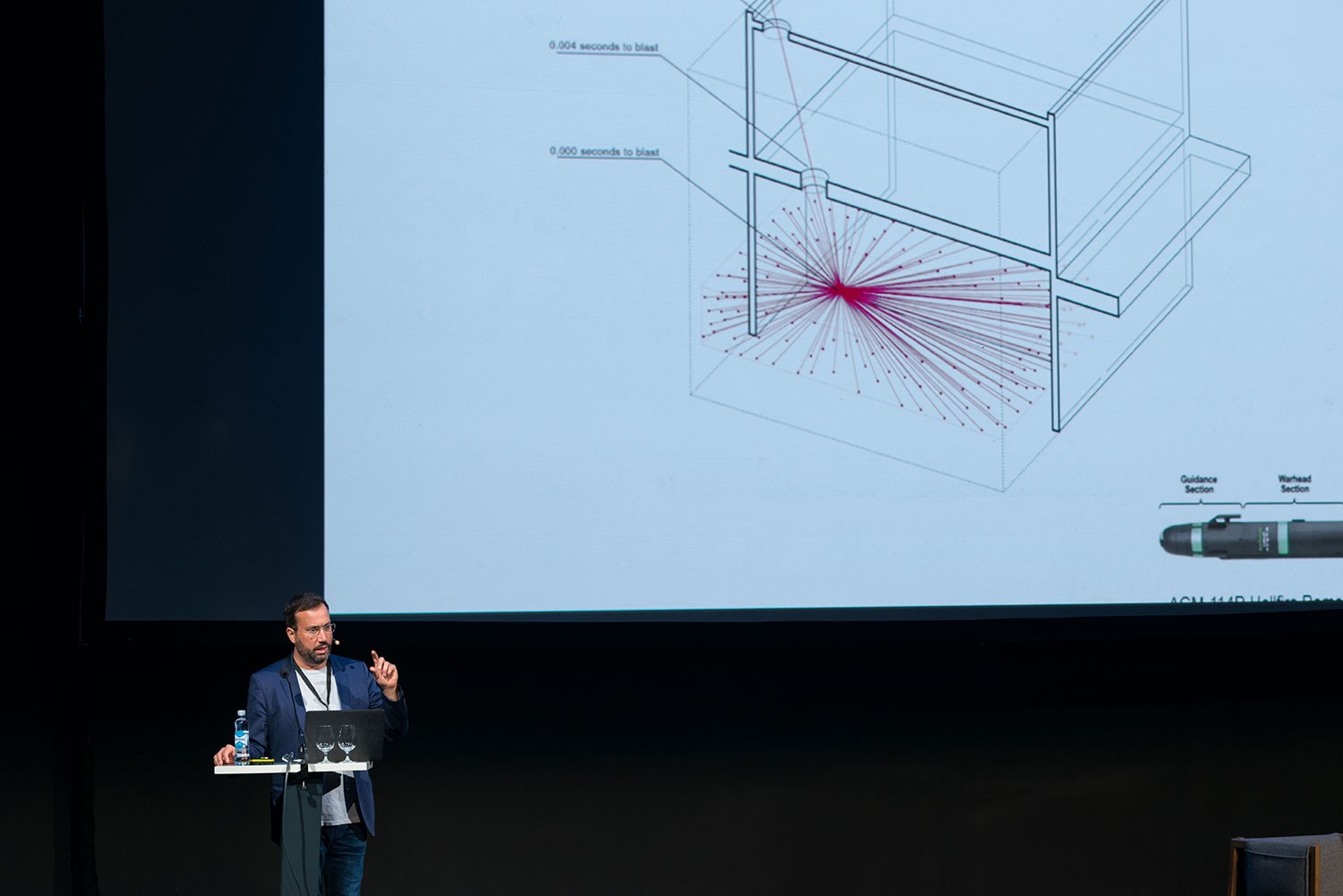 Eyal Weizman in conference. © Istvan Virag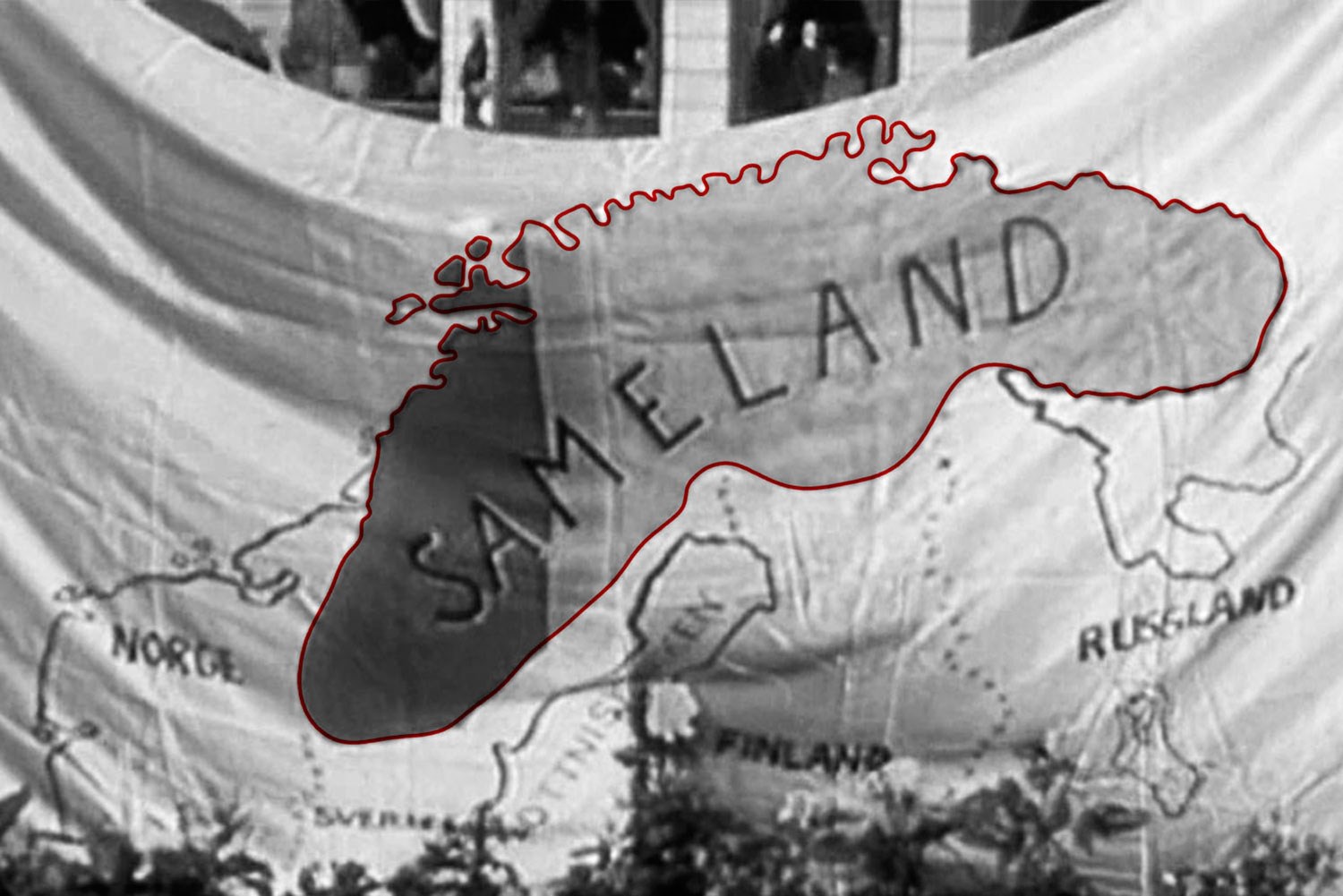 Nature, Labour, Land by Nabil Ahmed and Dámaso Randulfe
As OAT´s curatorial project by After Belonging Agency operates in a layered spatial/editorial visual and textual narrative exploring exquisite technologies, techniques and materials, it demands a substantial effort to grab the whole and to dig in detail. Its authors tend to be large collectives and informal consortiums making it hard to recall authors. It exposes, maps and raises awareness to (antagonist) problematics of belonging. Even after a few visits, the exhibitions invite to further inquiry into most of the presented projects as if it offers a present condensation of much larger bodies of work. From the immersive visit there is a number of strong strands:
The macro scale, the globe and the Anthropocene can be depicted in The Museum of Oil, by the Territorial Agency, presented at the inaugural conference sets the tone – please, do keep oil in the ground, don´t drill. With this interpellation, both the sustainable preoccupations and the wealthy economy, find a counter image of the globes suffering (warming, fires, pollution). The macro scale of nature/culture relation, presented by Eyal Weizman/Forensic Architecture´s multiscale lecture, unfolds how the dehumanization of nature is allowing for raw material exploitation, as in Indonesia, where massive forest fires seem to be related to the expansion of occur palm oil plantations, threatening both animals (orangutan) and the global atmosphere and climate. The project Air Drifts [in collaboration with NASA] displays visualizations of atmospheric movements and the implications of the dissemination of human produced particles in a new global ecosystem. From the ground, the geopolitical governance of the Artic Region at the border of Norway and Russia, in Kirkenes, and the permeability of both territories in a Labour-Nature relation, brought by Nabil Ahmed and Dámaso Randulfe, exposes how the radical need for belonging bring together antagonistic political forces.
Questions around belonging to local context, the problematics of migration and the construction of identities are a social strand present in several pieces/reports. A map comparing the urbanity, scale and insertion of Mosques and cult places devoted to Islam along 1400 years can be perceived in The City of Islams, by L.E.FT with Laurence Abu Hamdam, bringing historical religious architecture to the foreground, in a moment which the Islamic State is demolishing – and affirming – architecture as one of its political gestures. Bringing national Syrian reality, and the attack on it, to the fore, the very discreet and subtle project by Sigil, The Monuments of the Everyday: the revolution is a mirror, offer a reflected glimpse to fragmented realities that we only perceive from our own distant contexts. Civil (spatial) disobedience related to struggles of belonging, both property and nationality, are expressively presented in Welcome Hotel, by studio SIC, a research on the practice of resistance to housing evictions in Madrid, due to unpaid bank credit, a tall accumulation of cases pre and after the eviction processes. And, Movement as civil disobedience: mapping migration and solidarity on Lesvos Island brings evidence of activists' action in the field in Greece so to support the legal and illegal flux of refugees escaping war through Turkey.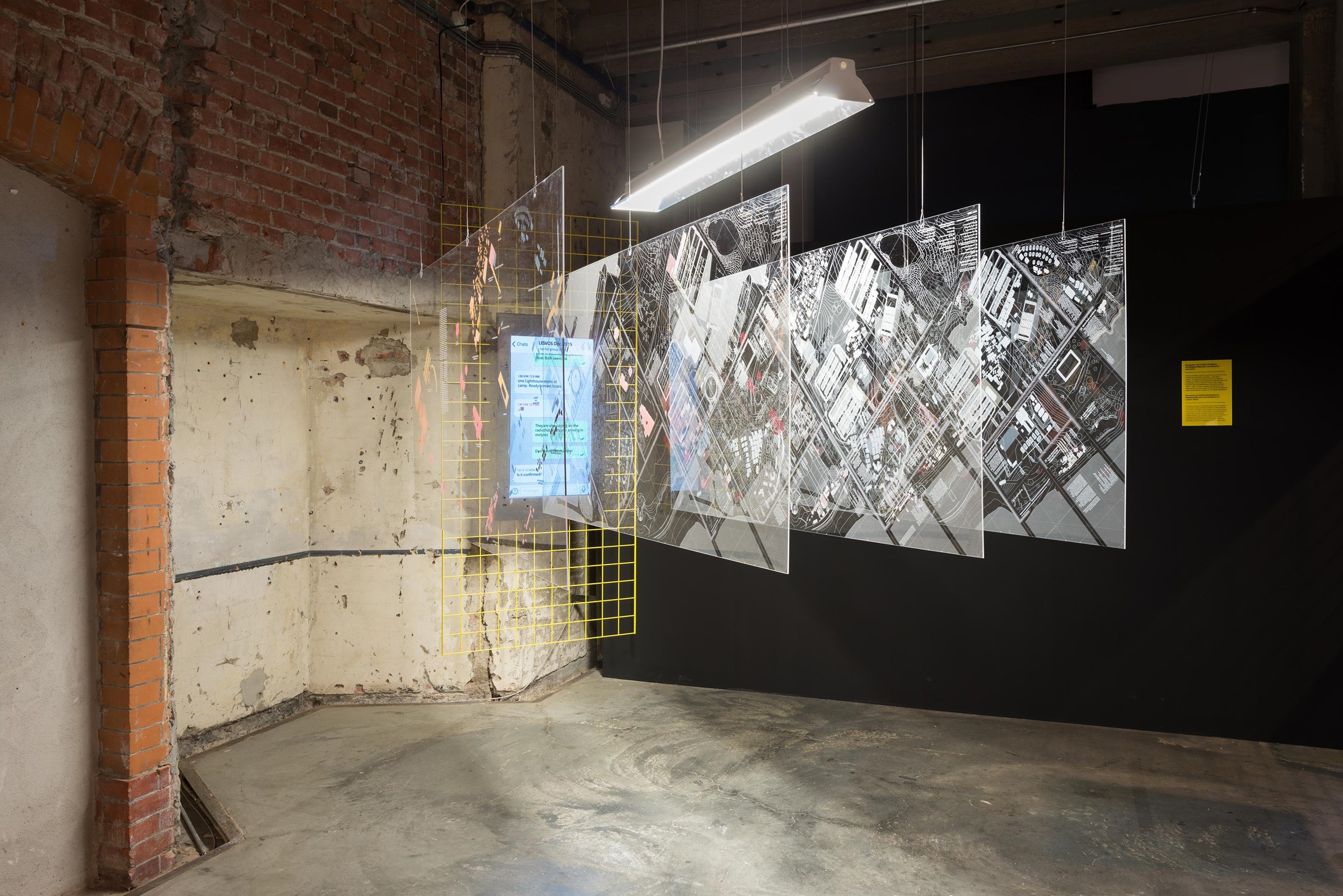 Nora Akawi, Nina V. Kolowratnik, Johannes Pointl, Eduardo Rega, Movement as Civil Disobedience - Mapping Migration and Solidarity on Lesvos Island, 2016. © Istvan
The economic dimension of architectural space and materialization is exposed by Spanish/Colombian HUSOS through the remittances sent into Colombia from Colombian migrants working abroad to build dream homes in homelands, where to get back to the place they belong. The project Isle of Pleasures, by Ana Naomi de Sousa, Paulo Moreira and Petur Waldorff, reports on the tensions between European economic migrants in Angola, their luxury and the local uses of the "resort" they occupy. As well reporting temporary inhabitation and diffuse fictional identities, the documentary by Ila Beka and Louise Lemoine on Airbnb in Copenhagen exposes how the expectations of belonging are today a fictional dream and a commercial manoeuvre.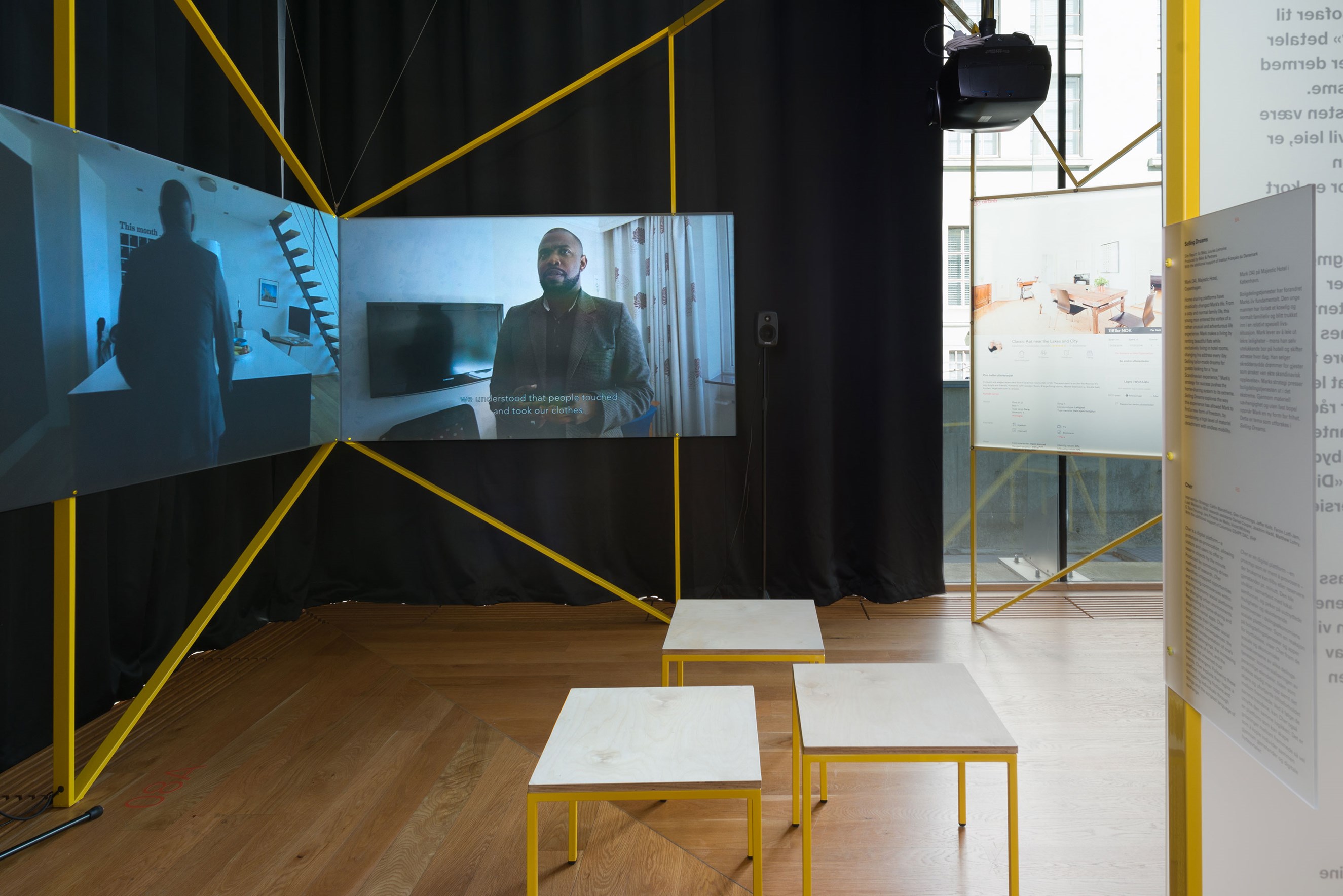 Ila Bêka, Louise Lemoine, Selling Dreams, 2016. © Istvan Virag
Another strand concerns question of lives and goods in permanent flux, the policies and technologies that sustain it and on its production and crystallization. The reference to IKEA like furnituring general low-quality interior global spaces with its low cost material culture, mirrors the report on buildings for individual storage in NY, a landscape of temporary accumulation of possessions of those in transit. ROTOR / ROTOR deconstruction´s sample materials of quality parts coming from savage operations in dismantled buildings, resonates the circulation of construction materials and furniture, its expenditure and the possibility of rethinking the flux and cycles that architecture operates on. The industrial Chinatown of Prato, in Italy is the most paradoxical demonstration of belonging and identity: warehouses and factories run and operated by Chinese workers and companies in Italy, producing under "Made in Italy" brand.
Triennales
Recalling Venice Biennale´s opening days, last May, one of the parallel gatherings with professional curators addressed what sounded common sense and long-solved issue: Biennials vs. Museums. If biennials are cultural gatherings relating and exposing its own time, and museums are historical repositories of authors´ works, where is the limit (or why the confusion), of the realm of action of both event and institution? Should biennials care for a legacy and for continuity, or, on the contrary, should they keep reinventing its formats, as for instance Bergen Biennale did? These questions sound worn-out, but are nonetheless implicit in the radical responses we have heard during these days, enthusiasm vs. scepticism.
The programmatic approach of this Triennale is clear, it does not commit to divulging architectural authors nor completed objects but, instead, experiments and reports on contemporary conundrums where architecture may respond/mirror issues of belonging, inhabiting and living in a wide ecosystem. OAT seems to be committed not to disciplinary knowledge and heritage, but to provide the grounds for testing and stretching the limits of the field. And although not every visitor is willing to take part in its discourses – as the performative, the language oriented or the social jargon demand a certain "literacy" (as any field of knowledge does) – Oslo seems to be committed to keep devoting its tri-annual event to experiment, to search and to display the world´s anxieties.